About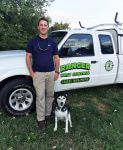 Brandon Walker
Founder of Ranger Pest Control
Brandon Walker established Ranger Pest Control in 2016. Walker has over ten years of experience in the pest control industry with experience in termites, mosquitoes, ants, roaches, bees, wasps, etc.
Currently, he specializes in termite inspections. Brandon works with both realtors and clients on scheduling termite inspections.  All termite inspections are diligently completed and reports are sent in a timely manner to all parties.
All of our technicians are certified and insured in the state of Tennessee.
---
Location: